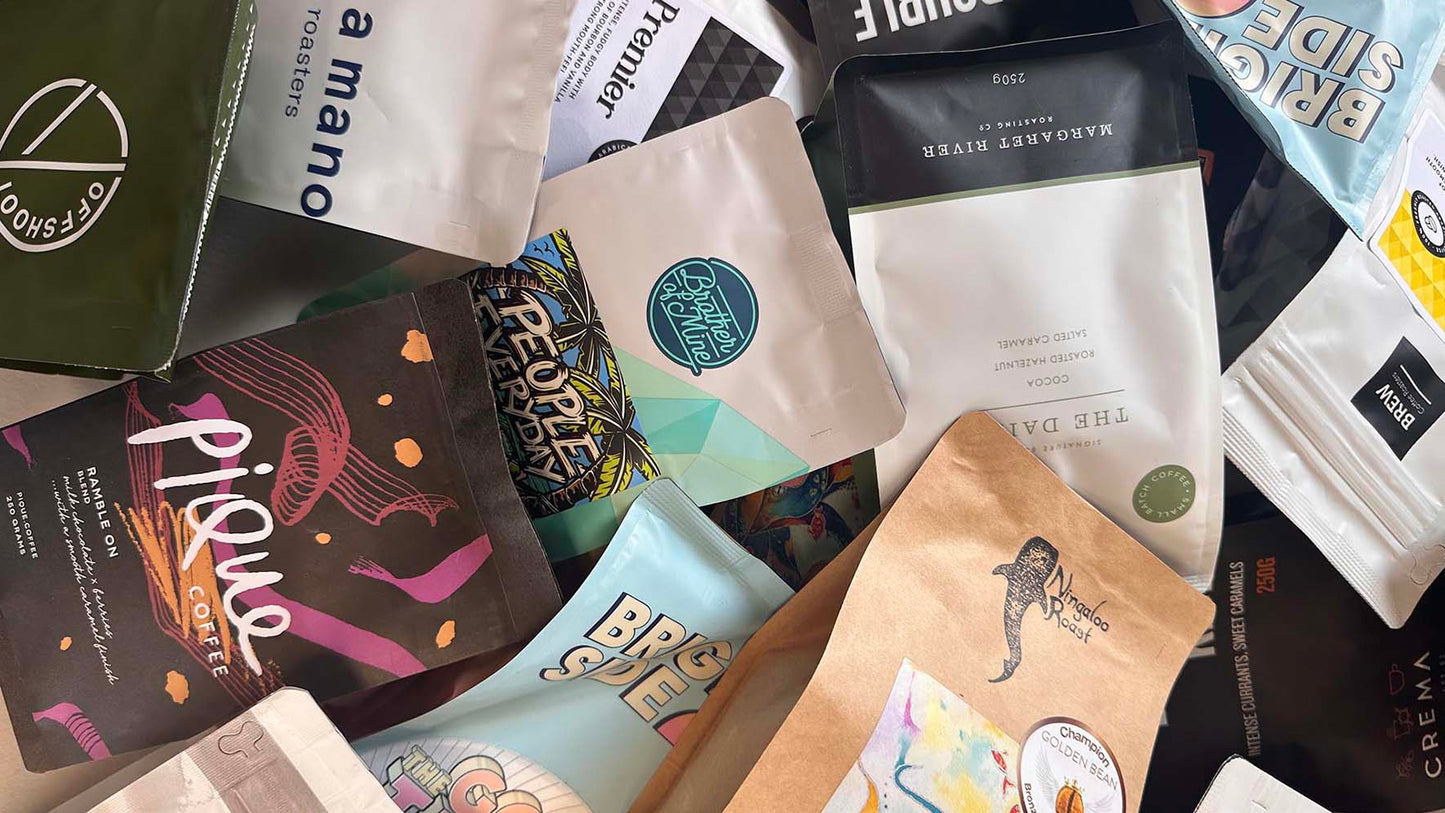 It's a new year, and we're all sipping on impressive fresh coffees, leaving 2022 in our rearview mirror! And what a year it was for coffee lovers everywhere.
We're thrilled to reveal the best local coffee beans and the top coffee roaster in Perth for 2022! These brews were chosen based on your purchases and love for them. Our community of coffee enthusiasts are always eager to try new blends and support local coffee roasters.
At Perth Coffee Exchange, we're convinced that Western Australia boasts some of the best coffee in the country, and we know our community agrees. With 20 local coffee roasters on our site, we love introducing the world to Perth's finest brews and those hidden gems you wouldn't find anywhere else.
So, if you're a coffee fiend like us, keep your eyes peeled. We've got some fantastic new coffee bean blends and local coffee roasters joining our lineup in 2023!
Now, let the drumroll commence... 🥁 🥁
Introducing the best coffee beans of Perth in 2022!

# 1: Brightside - The Good Times Blend
Ladies and gents, hold on tight because we've got a coffee that will make your tastebuds dance!
Taking the title of the Top Coffee Bean of 2022, it's the "Brightside - The Good Times Blend". With its rich and creamy body and sweet, chocolatey notes, this coffee is the ultimate pick-me-up.
So, if you're in the mood for a feel-good caffeine fix, the Brightside brew is the one for you! No wonder it's the favourite among our customers in Perth.
Explore more brews from local coffee roaster of Perth - Brightside Coffee
# 2: Pique - Ramble On 
a sensation among our coffee-loving community! It's amazing to see small local roasters flourishing, and Pique's Ramble On is a prime example of this success.
This coffee offers a delightful blend of milk chocolate and berry flavours, culminating in a smooth, rich caramel finish.
Perfect for sipping as an espresso or paired with milk, it's no wonder why this coffee has become so popular among our customers!
Explore more brews from local coffee roaster of Perth - Pique Coffee
Ready to embark on a coffee adventure? Make 2023 the year you challenge your taste buds by trying the most amazing WA coffee beans from the top 4 Local Coffee Roasters in Perth in 2022. Get started by ordering our Best of 2022 Tasting Box now!
# 3: Brother of Mine - People Everyday
Ranking third on our list of the best coffee beans in Perth for 2022 is Brother of Mine's People Everyday.
This remarkable coffee has been a consistent favourite among coffee enthusiasts and has earned its place as one of the top brews in Perth for the second year in a row.
People Everyday offers a versatile drinking experience, with rich notes of toffee, plum and dark chocolate shining through when enjoyed black, and caramel, peanuts, and coco-pops coming to the forefront when paired with milk.
It's no wonder this coffee has become a go-to for so many of you!
Explore more brews from local coffee roaster of Perth - Brother of Mine Coffee
# 4: Little Owl Coffee Roasters - Signature
The Signature Blend from Little Owl Coffee Roasters has become a staple in the daily routines of many coffee enthusiasts in Perth.
When enjoyed black, this coffee showcases its rich hazelnut, caramel, and stone fruit flavors, making it a top pick among coffee lovers.
Explore more brews from local coffee roaster of Perth - Little Owl Coffee Roasters
Showcasing our top roaster for 2022

Brother of Mine - Top Local Coffee Roaster in Perth 2022
Ending 2022 on a High Note with Brother of Mine Last year was a phenomenal finish with Brother of Mine as our Roaster of the Month. Throughout the year, they have been a consistently popular and well-loved roaster among our coffee community, and for good reason! Brother of Mine consistently delivers top-notch, irresistible coffees that never disappoint. 
Read more on this fantastic coffee roaster in Perth and what gets them brewing here.
Revealing our top individual local coffee roaster tasting box...

Brightside Coffee Tasting Box
Brightside shines again in 2022 with its top-rated Tasting Box.
Our coffee community can't get enough of the delicious brews from this local roaster.
This must-try box includes a selection of Brightside's best and most popular blends, including the Among Friends Blend, The Good Times Blend, Alto Palomar Single Origin from Peru, and La Jacoba Single Origin from Colombia. Get ready for an incredible coffee experience with this crowd-pleaser box.
And that's a wrap, folks! The crème de la crème of 2022 coffee is all laid out before you.
A big shoutout to our lovely coffee community for your undying love for local brews, and to our talented local Perth coffee roasters for continuously delivering the goods.
So, let's continue to quench our thirst for new and exciting coffee experiences! Keep sipping and exploring, folks
Next Up: Looking to make amazing espresso coffee at home then check out our Espresso Tips blog post....
Sign up to our community if you want to stay updated on the latest coffee news and be in the know. (Head to our home page or scroll down and sign up 👇)